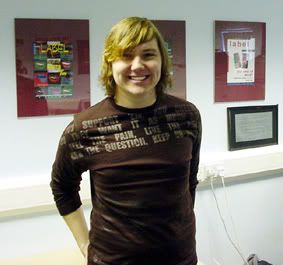 As much as I try my best to maintain a distinct editorial tone to this blog (wry satire and news comment reported in the 3
rd
person if you must know), occasionally a more personal approach is needed, so join me as we swim into the shallow and self-indulgent waters of the first person Blog.
People have always asked me what I want to do with my life. As a child you get it a lot, then there's careers councillors and teachers at college, and as an adult you tend to get it in job interviews, in a round-about kind of way. As a child my answer evolved from inventor to writer pretty quickly. At college it solidified into journalist, and then further into music/film/TV magazine journalist with a sideline in fiction. Then I started getting interested in radio, and then in comedy, and then I started writing comedy myself.

Which is a lot to get over in a job interview, so I started using the writer/broadcaster/editor/author Andrew Collins as a short-hand career ambition. "what I really want" I have always joked "is to be on the list of people the BBC call when they do I LOVE 2004", or "The Top 100 Comedy Moments 1995-2005" or indeed "The Top Alternative Tunes 1985-Present". An interesting person whose opinions are valued.

Last year Andrew Collins helpfully released a career biography (the excellent 'That's Me In The Corner'), allowing me to realise how far behind schedule I am. It also confirmed, even more than I actually realised, just how much Andrew had done that I've always wanted to achieve.
Depressingly my career thus far has been a sort of ITV3 version of his.
Observe:
Marc Burrows/ Andrew Collins career Contrast.
Andrew: Music journalist for NME, Select, Q, The Word, many more.
Marc: Music journalist for Playmusic (who went under owing me £400), Label magazine, various online
Andrew: Features Editor of NME and Select, Features Editor and Editor of Q, Editor of Empire, Film Editor for Radio Times
Marc: Arts Editor, Deputy Editor and Editor Label Magazine (Editor was a full time job, 20 page weekly magazine for a year running a team of students, elected position natually), content manager/copywriter (comedybox.tv)
Andrew:
Has interviewed everyone from unknown indie bands to movie legends
Marc: Has interviewed thousands of unknown indie bands, plus the very occasional important person

Andrew: Comedy/Sketch Radio (Radio 5/1), Music Radio
(6Music), Speech radio (Radio 4), Panel show (Radio 4), Podcast
Marc: Music Radio (LCR –student radio/ Roskilde Festival Radio), Speech Radio (Resonance FM), Podcast (coming)
Andrew: Written three memoirs
Marc: Er…Kept an extensive diary when I was in Hospital?
Andrew: Writes a Blog
Marc: Writes a blog. YES! Take that Collins.
Andrew: TV presenting, talking head
Marc: Producer, writer and presenter of upcoming Fuzzed.tv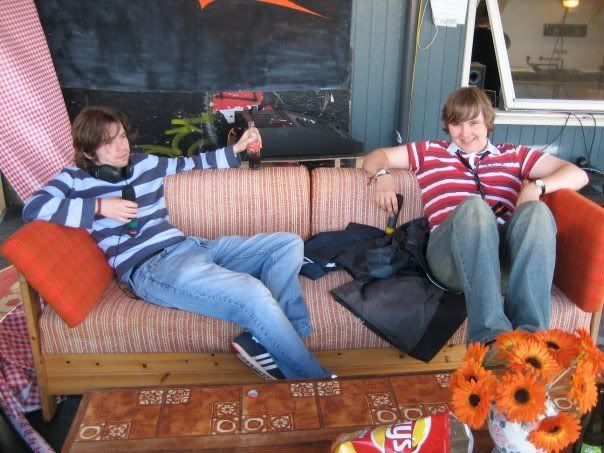 Andrew: Sony award winner (for Collins and Maconie's Hit Parade)
Marc: National Student Radio Association Award winner (Bronze Award, Best Entertainment Show)
Andrew: Partnered with Stuart Maconie, Richard Herring more recently.
Marc: Partnered incurably with Patrick Charlton
I'm not going to go into scriptwriting work, as Andrew was older than me when he did a lot of that so I don't have to feel too bad.
So what's the point of all this? Andrew's recent book was about trying to fathom who he is and what he does. I'm trying to define who I am and what I want to do, and more or less they're the same thing. I'd like to point out I'm not idolising Andrew Collins here, although I am a fan of his work. Nor do I resent him for his success, as it's pretty well-earned. There's also things I've achieved that he hasn't. He just happens to have carved out, almost by coincidence, pretty much the exact career I've always wanted.
Maybe there's something in the psyche of music-geek, TV obsessed Doctor Who fans from the East Midlands.
There's still time to catch him anyway.